Stacking The Shelves is a weekly meme hosted by Tynga's Reviews. In this meme you feature the books you received during that week. If you'd like more information on how to participate, click
here
.
I'm so glad to be back in the book blogging world! I look forward to seeing what everyone has gotten this week. I didn't get a lot myself, but I did get some good ones! :)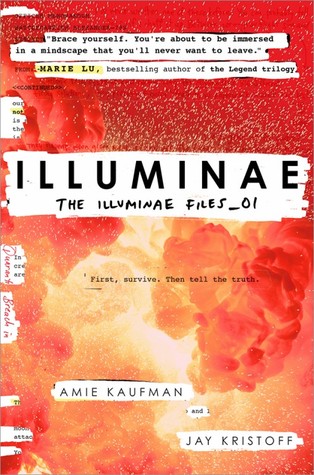 Illuminae by Amie Kaufman and Jay Kristoff
A HUGE thank you to Random House Children's and Knopf Books for Young Readers for approving me on Netgalley for this ARC. I've been extremely excited to read it (you all know how I am about space books) and it is just as great as I thought it would be. A review will be coming in the next week or so.
Goodreads Summary: This morning, Kady thought breaking up with Ezra was the hardest thing she'd have to do.
This afternoon, her planet was invaded.
The year is 2575, and two rival megacorporations are at war over a planet that's little more than an ice-covered speck at the edge of the universe. Too bad nobody thought to warn the people living on it. With enemy fire raining down on them, Kady and Ezra—who are barely even talking to each other—are forced to fight their way onto an evacuating fleet, with an enemy warship in hot pursuit.
But their problems are just getting started. A deadly plague has broken out and is mutating,
with terrifying results; the fleet's AI, which should be protecting them, may actually be their enemy; and nobody in charge will say what's really going on. As Kady hacks into a tangled web of data to find the truth, it's clear only one person can help her bring it all to light: the ex-boyfriend she swore she'd never speak to again.
Told through a fascinating dossier of hacked documents—including emails, schematics, military files, IMs, medical reports, interviews, and more—Illuminae is the first book in a heart-stopping, high-octane trilogy about lives interrupted, the price of truth, and the courage of everyday heroes.
This is a book that I have heard such wonderful things about, but I never actually looked into it. So, when I was surfing the Barnes & Noble website, I came along the Exclusive Collector's Edition for $12.50 and thought "Why not?". I will be reading this as soon as I finish Illuminae.
Goodreads Summary: When Clary Fray heads out to the Pandemonium Club in New York City, she hardly expects to witness a murder—much less a murder committed by three teenagers covered with strange tattoos and brandishing bizarre weapons. And she's more than a little startled when the body disappears into thin air. Soon Clary is introduced to the world of the Shadowhunters, a secret cadre of warriors dedicated to driving demons out of our world. And Clary is introduced with a vengeance, when her mother disappears and Clary herself is almost killed by a grotesque monster. How could a mere human survive such an attack and kill a demon? The Shadowhunters would like to know…
This edition of City of Bones features an exclusive poster and new scene, a brilliant new cover, a map of New York City, a new foreword, and a bonus story.
Let me know what you guys think of these books. Don't forget to leave me a link to your STS post, I'll be sure to leave a comment! Happy reading everyone! :)