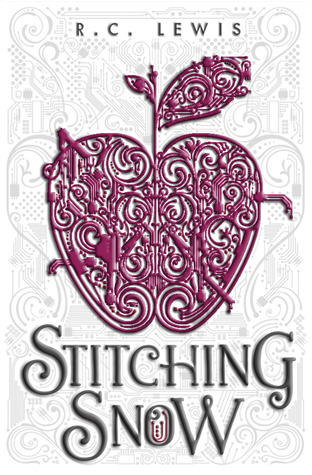 Title:
Stitching Snow
Author: R.C. Lewis
Series: Standalone, but there will be a companion novel!
Published: October 14th, 2014
Genre: sci-fi, dystopian, fairytale re-telling
Pages: 328 pages
Goodreads Summary:
Princess Snow is missing.
Her home planet is filled with violence and corruption at the hands of King Matthias and his wife as they attempt to punish her captors. The king will stop at nothing to get his beloved daughter back—but that's assuming she wants to return at all.
Essie has grown used to being cold. Temperatures on the planet Thanda are always sub-zero, and she fills her days with coding and repairs for the seven loyal drones that run the local mines.
When a mysterious young man named Dane crash-lands near her home, Essie agrees to help the pilot repair his ship. But soon she realizes that Dane's arrival was far from accidental, and she's pulled into the heart of a war she's risked everything to avoid. With the galaxy's future—and her own—in jeopardy, Essie must choose who to trust in a fiery fight for survival.
____________________________________________________________________
My Thoughts:
I found this book while looking through the YA Book Exchange website, once I saw the summary I knew that I had to have it. I traded with someone and started reading it the moment I got it. The storyline was so unique, packed with knowledge and adventure.
Stitching Snow follows Essie, a girl with a love for technology who holds a secret past. The book tells of Essie's life, what happens when a mysterious hot guy lands on her planet, and how she ultimately battles everything that is thrown at her (no matter how large or small it is).
This book comes with a wide variety of characters that you will love and some that you will hate. Let's not forget the cute little drones that Essie has. Although there are quite a few characters, you'll find that soon enough you'll know them all by name and feel like you've known them for years. The world building was amazing as well; I felt like I was on each planet just as Essie was, I felt the chill of a night on Thanda in my bones. Every emotion that Essie felt I too could feel, whether it be sadness or anger towards a character.
I personally think that the climax of this book was better than most books I read.
For some reason I was just so drawn into the pages and wasn't bored for a single second. There were no plot fillers, just action! I enjoyed reading this book so much, it made me feel like writing a review on it. (Yes, I've gotten very behind on my reviews.)
The romance of this book is much different compared to other books that I've read. Remember this book doesn't focus around romance, much more emphasis on the actual plot, but there is some. Trust me, the romance that is present made my heart all warm and fuzzy. When I got to that super-fantastic-awesome point in the book I couldn't stop smiling. There is a lot of action in this book, I never came across a dull point. I really enjoyed how well put together every action was, there was a lot of thought behind everything that happened.
I could go on and on about how beautifully crafted this book was, but I will leave it for you to go and find out for yourself. I would highly recommend this book to anyone. Just because it is a futuristic, sci-fi, dystopian, action, re-telling, doesn't mean you have to like all of those things. The book is so well written that anyone could pick it up and be intrigued.
Happy Reading! :)
RATING: