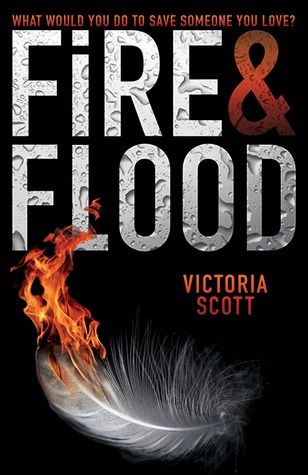 Title:
Fire & Flood
Author: Victoria Scott
Series: Fire & Flood #1
Published: February 25th, 2014
Genre: adventure, dystopian
Pages: 305
Goodreads Summary:
Time is slipping away....
Tella Holloway is losing it. Her brother is sick, and when a dozen doctors can't determine what's wrong, her parents decide to move to Montana for the fresh air. She's lost her friends, her parents are driving her crazy, her brother is dying—and she's helpless to change anything.
Until she receives mysterious instructions on how to become a Contender in the Brimstone Bleed. It's an epic race across jungle, desert, ocean, and mountain that could win her the prize she desperately desires: the Cure for her brother's illness. But all the Contenders are after the Cure for people they love, and there's no guarantee that Tella (or any of them) will survive the race.
The jungle is terrifying, the clock is ticking, and Tella knows she can't trust the allies she makes. And one big question emerges: Why have so many fallen sick in the first place?
____________________________________________________________________
My Thoughts:
(*I didn't realize that I forgot to post this review!*)
Wow, I cannot believe how amazing this book was. Part Survivor, part Amazing Race. This was a phenomenal read and I'm so happy I was provided with an eARC so I had the opprotunity to read it. This was the young-adult adventure that I'd been waiting to read and I'm so excited to read the sequel, in fact I'm pre-ordering it.
When I read the summary for
Fire & Flood
I honestly thought it'd be an okay read and I didn't imagine it being anywhere near as adventurous as it was. I had no idea what to expect, but I loved what I read. Action, suspense, romance and so many unbelievable plot twists! I could read this book over and over again and never get bored.
Let me go more into detail about the action/adventure of this book. Whenever I read a book that involves action and adventure, I never feel like I'm part of it. With
Fire & Flood
I not only felt like I was part of the Brimstone Bleed, I was enjoying it. This was such a fun read, it seriously felt like I was on an adventure. I felt like I was running the race with Tella. I'm sure the sequel will have more action, adventure, romance and plot twists.
The characters of this book were so different than other books, I grew bonds with them.
I felt like Cody was my brother and I felt like all the people Tella was traveling with were my friends. It was like I was experiencing everything through my Nook. I know a lot of reviewers are saying Tella was annoying, childish, etc. but she honestly wasn't. How many of you would actually participate in this race? How many of you would be able to look at open wounds without freaking out or having to defend yourself? Tella was a
perfect
example of how any teenage girl would've acted in this situation. I know personally if I participated in the Brimstone Bleed for my brother I would've freaked out a lot more than Tella did. Victoria Scott captured the typically personality of a teenage girl and put her into a place where she was uncomfortable and she acted accordingly. I couldn't have asked for a better main character. It's so typical to see a character who is unrealistic, someone who can do things other people can't. Well here's a character you can actually connect with. As for the other characters, they were great as well. There were so many different personalities, I enjoyed that everyone wasn't the same. Almost all of the characters acted just like their personality, the few that don't are characters that Tella wasn't fully familiar with.
The Pandoras were one of my favorite parts of the book. Tella's Pandora is so bad-ass, I would definitely pay hundreds of dollars for one. I loved the idea of all Contenders having a Pandora to help them win the race. The Pandoras were one of the numerous things that made the book very enjoyable, having them around just made me happy. I was surprised that I remembered all of their scientific names and didn't get any confused. Thankfully we weren't introduced to thiry of them at once, then I probably would've gotten them confused.
Ah, the romance. It may not have been a lot, but it was definitely enough to make me smile and giggle like a school girl. I was surprised at the romance but it made me feel so warm and fuzzy! Guy was already swoon-worthy to begin with, I love that he's tough but has a soft side. I think having him around Tella made the story so much better. While reading I could feel the chemistry between them, I definitely don't think it's insta-love. A lot of other reviewers are also saying the romance is insta-love, I definitely disagree. If you were participating in the Brimstone Bleed and you were off running around by yourself, the moment you saw an attractive tough guy you would probably have googly eyes for him and possibly get feelings for him after so long.
Something else that I greatly enjoyed was the frame story the book seemed to have. Other than participating in the Brimstone Bleed, there was what seemed to me like a small story within a story; there was the stuff that happened with Titus and the Pandoras, etc. It seemed like there was more than just the race.
Plot twists were a very big thing in this book, many of them I never saw coming and my jaw dropped upon reading them. There was so much suspense that I just couldn't stop reading when I was, I felt like I was glued to this book.
The ending was of course a cliffhanger, but it was very enjoyable. Everything pulled together well and left me wanting more! I'm so excited to know what happens next and I know I'm going to love it!
Overall this was a phenomenal read, if you're thinking about picking up
Fire & Flood
don't even think about it, just do it. This book is defnitely worth buying, while you're at it pre-order the sequel. I recommend this to everyone. If you're looking for an adventure with action, suspense and romance this is your book. I was amazed by everything that happened in this book and I'm so glad I read it.
RATING: